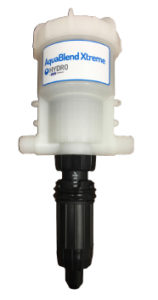 The AquaBlend Xtreme has been specifically designed to not only accurately medicate water, but also be compatible with water line cleaning chemicals used in many agricultural applications. AquaBlend Xtreme is available in the 2% and 5% variable models and can handle both liquid chemicals and wettable powders. Similar to the standard AquaBlend product line, it features the following:
• Quick and easy installation
• Perfect for wettable powders and liquid chemicals
• Unique tool-free maintenance
Perfect for:
Vaccinating
Medicating
Water treatment with chlorine and peroxides
Cleaning water lines with various organic acids
Administering nutrients and supplements
AquaBlend Xtreme features highly engineered materials that come in contact with the chemical that is being diluted to provide advanced chemical resistance.
Common water disinfectants and water line cleaners that can be used with Aquablend Xtreme are:
Acetic Acid / Kwas octowy
Apple Cider Vinegar / Ocet jabłkowy
Butyric Acid / Kwas masłowy
Calcium Chloride / Chlorek wapnia
Chlorine (500ppm or less) / Chlor (500 ppm lub mniej)
Citric Acid / Kwas cytrynowy
Formic Acid / Kwas mrówkowy
Hydrogen Peroxide / Nadtlenek wodoru
Iodine / Jod
Lactic Acid / Kwas mlekowy
Peracetic Acid (5% or less) / Kwas madoctowy (5% lub mniej)
Phosphoric Acid / Kwas fosforowy
Propionic Acid / Kwas propionowy
Sodium Hypochlorite / Podchloryn sodu
Model:

Ref

Water Flow

Dilution range

Recommened water pressure

Connection size

Max Temp.

2.00%

HYD117958XT

10 – 2500 L/H

0.2 – 2.0%

0.4 – 6.2bar

3/4" BSP

38oC

5.00%

HYD117958XT

10 – 2500 L/H

1.0 – 5.0%

0.4 – 6.2bar

3/4" BSP

38

oC